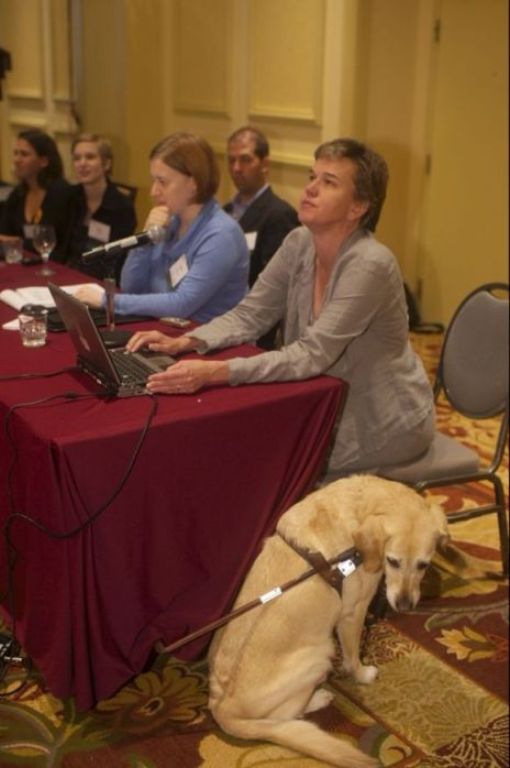 Hanni and I have stayed in plenty of hotels, but never before has a concierge offered us a gift bag…for the dog!
We're at the Renaissance Austin Hotel – I gave a presentation about assistive technology at the Convio Summit yesterday, and tomorrow I'm giving a presentation about Hanni and Beth: Safe & Sound in the Kids Department at BookPeople. BookPeople is the largest bookstore in Texas. We all know everything is bigger in Texas, so Yikes, Book People must be a pretty big place!
But back to Hani's goody bag. Renaissance Austin Hotel is "small dog friendly" so it keeps a stash of goody bags on hand for canine guests. Hanni is not a small dog, of course, but her Seeing Eye status gets her in everywhere. Her goody bag was perfect for one of those toy-poodle-like dogs –a fancy paper bag, slick and shiny to the touch, tied at the top with a ribbon and everything! Inside I found a Mutt Mitt for easy "pick up" and a few treats for Hanni. The treats, I was told, were made by the restaurant's pastry chef. But that wasn't all – she also got a squeak toy (Hanni loves squeak toys) and a teeny-tiny rawhide bone.
Needless to say, Hanni loves this hotel.
I suppose I shouldn't have been surprised at the goody bag. Mike, Hanni and I were lucky enough to be in Austin last June, and everywhere we went that weekend people – and businesses — were friendly and welcoming to dogs. Austin-Bergstrom International Airport even has a dog park! I
was so taken by Austin's love of dogs after that June trip that I contacted Dog Fancy Magazine to see if they'd be interested in my writing a story about it. My article about Austin will appear in the January issue of Dog Fancy – look for it on newsstands in late November.
For now, I'll reach in that goody bag for a Mutt Mitt — time to go out with Hanni before her goodnight snack. Hope she doesn't get too used to these homemade dog treats – I can assure you, I won't be making these at home!