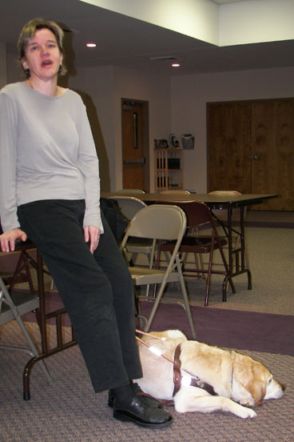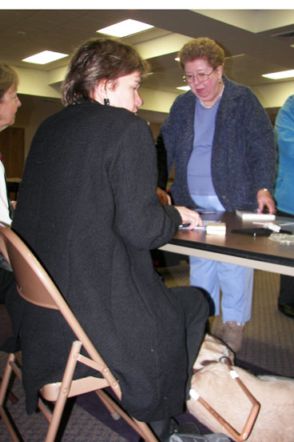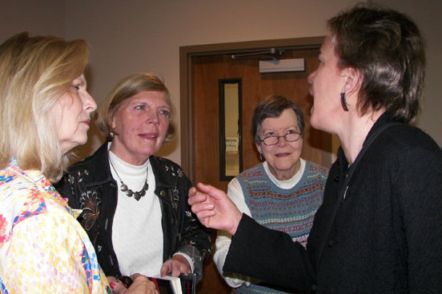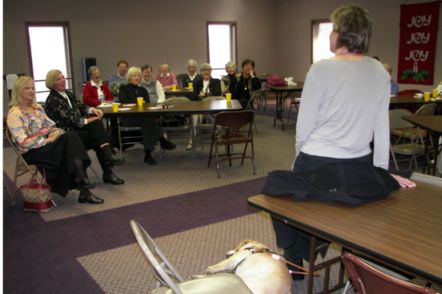 South Carolina was swell. Our presentation at my sister Bobbies' Book Club was well-received, and it was downright refreshing to go outside without a parka and boots on.
It would've been hard to return to cold and windy Chicago if we didn't know Mike was there waiting for us. And to add icing, pardon the weather pun, to the cake, there was also a VERY cool new blog comment waiting at home on my talking computer. It was a response to Hanni's Happy Birthday blog:
"I am a 26 year old totally blind musician from New York. I'm thinking about getting
a guide dog as soon as I get a place of my own…"
This blogging thing is cool. The musician went on to ask where she could get copies of my book. It made me think, gee, now might be a good time to blog about how folks can get copies of both "Long Time, No See' and "Safe & Sound" in special formats for the blind. The following is "borrowed" directly from my web site:
"Long Time, No See" is available free of charge on cassette or in Braille from the National Library Service for the Blind and Physically handicapped (NLS).
Through a national network of cooperating libraries, NLS circulates Braille and audio materials postage-free to those prevented from reading due to blindness or physical handicap.
Eligible borrowers can contact NLS and ask for call numbers RC56482 (cassette) or BR14821 (Braille).
Please note that NLS cassettes are recorded on a slower speed and are unusable on standard tape players. If you do not have a special NLS tape player and feel you qualify for the NLS program, special tape players can be obtained by phoning the national Library Service for the Blind and Physically handicapped at:
1-888-NLS-READ (1-888-657-7323). More information is also available at
www.loc.gov/nls
As for the children's book, Blue Marlin Publications has teamed up with Seedlings Braille Books for Children to produce a number of copies of "Hanni and Beth: Safe & Sound" in a special print-Braille (no pictures) format. Braille words appear directly under the printed words, providing visually-impaired children and their sighted parents a wonderful way to enjoy learning Braille. Print-Braille books are also very popular with blind adults (or older children) who enjoy reading to sighted preschoolers.
To order a copy of "Hanni And Beth: Safe & Sound" in print-Braille, link to
www.seedlings.org.
Back to me. I was extremely pleased when my friends at Blue Marlin Publications decided to donate a portion of the proceeds from sales of the standard print-only version of Hanni and Beth: Safe & Sound to Seedlings Braille Books for Children. Blue Marlin's generosity will help this non-profit, tax-exempt organization continue providing high quality, low cost Braille books for children.