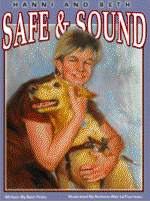 Wow. So many wonderful things happened while Hanni and I were in Anaheim to accept the Henry Bergh children's book award from the American Society for the Prevention of Cruelty to Animals (ASPCA) — it'd take an award-winning writer to sum it up in one blog post. Hey. Wait. I am an award-winning writer now! I oughta be able to condense this great weekend into 500 words, right? Let me give it a try. Sunday morning started with a fundraiser for the Southeast Area Animal Control Authority in Downey, CA. We'd do presentations there and sign books. Proceeds would go to the shelter.
 
The drive there took us speeding down one of those famous California eight-lane freeways. We were close to our destination when our driver (Kristen Limbert, the Coordinator for Humane Education at the ASPCA) saw a dog crossing the road. "I've gotta stop," she said, merging through deadly traffic to pull over to the side, open her window and make kissy noises. The puppy was understandably confused by all the traffic, but somehow needled his way right into Kristen's arms. Now, that was one lucky dog. What were the odds of an ASPCA van crossing his path, headed directly to the local Animal shelter?! He had no tags, so was dubbed Henry — for the book award, of course! Hanni stayed calm for the entire ordeal, and Kristen vowed that if no one adopts Henry by the end of the week, she'll take him home.
After the shelter event Hanni and I joined my sisters Marilee and Cheryl at the American Library Association (ALA) convention center. Marilee had come from Orlando to join me; Cheryl had flown in from Seattle. We visited the Independent Book Publishers Association Booth to make sure the copy of Safe & Sound displayed there was front and center, then did the same at the ASPCA booth. After that, it was time for the ALA World Championship book cart precision drill team competition. From a blog post on LibGig:
What's that you say? You've never heard of such a thing? What is a Book Cart Drill Team? Well, you know what a drill team is, right? And you know what a book cart is, right? Well put them together and you get the single most nerdcore sporting event ever. Presiding over the festivities were Mo Willems and Jon Scieszka. They entertained the crowd, conducted interviews and provided color commentary while the judges tallied their scores…

There were pinwheels, there were catch and release routines, carts were spun on one wheel. Librarians surfed on carts, did splits on carts, wore sequins and lab coats, and the singing was amazing!
I was not a judge, but the Bibliofiles book cart drill team from the Austin Public Library was my favorite. If you've read my previous blog posts, you already know how much Hanni and I love Austin. A lot was made of the drill team's headgear (books that spun!) and I thought it was cool that the team learned sign language, donned white gloves, and interpreted their soundtrack to us. But what really sold me on the Bibliofiles was their grand finale– they rolled out a big banner of a famous Helen Keller quote: "Literature is my Utopia." It was written in print, and in Braille. They took silver in the competition, and Marilee found a video on YouTube of their performance –check it out!
On Monday we went to an author presentation, signed up for contests, picked up free pencils, post-it notes, books and catalogs at exhibits, fronted Safe & Sound where necessary, then headed back to the hotel to get ready for the ASPCA/Henry Bergh Children's Book Award ceremony. I slipped on my Lana Turner dress, Cheryl wore sequins, Marilee fluffed my hair and lent me her jewelry. Hanni stood proud as she guided me into the Anaheim Hilton for the event. True to form – I mean, Flo Finke didn't raise no fools — we were the first to arrive at the party, and the last to leave. Yikes! I'm over 500 words already! I'm sure you are just on the edge of your seat, though, waiting for details of the award ceremony — guess you'll just have to stay tuned for my next post!