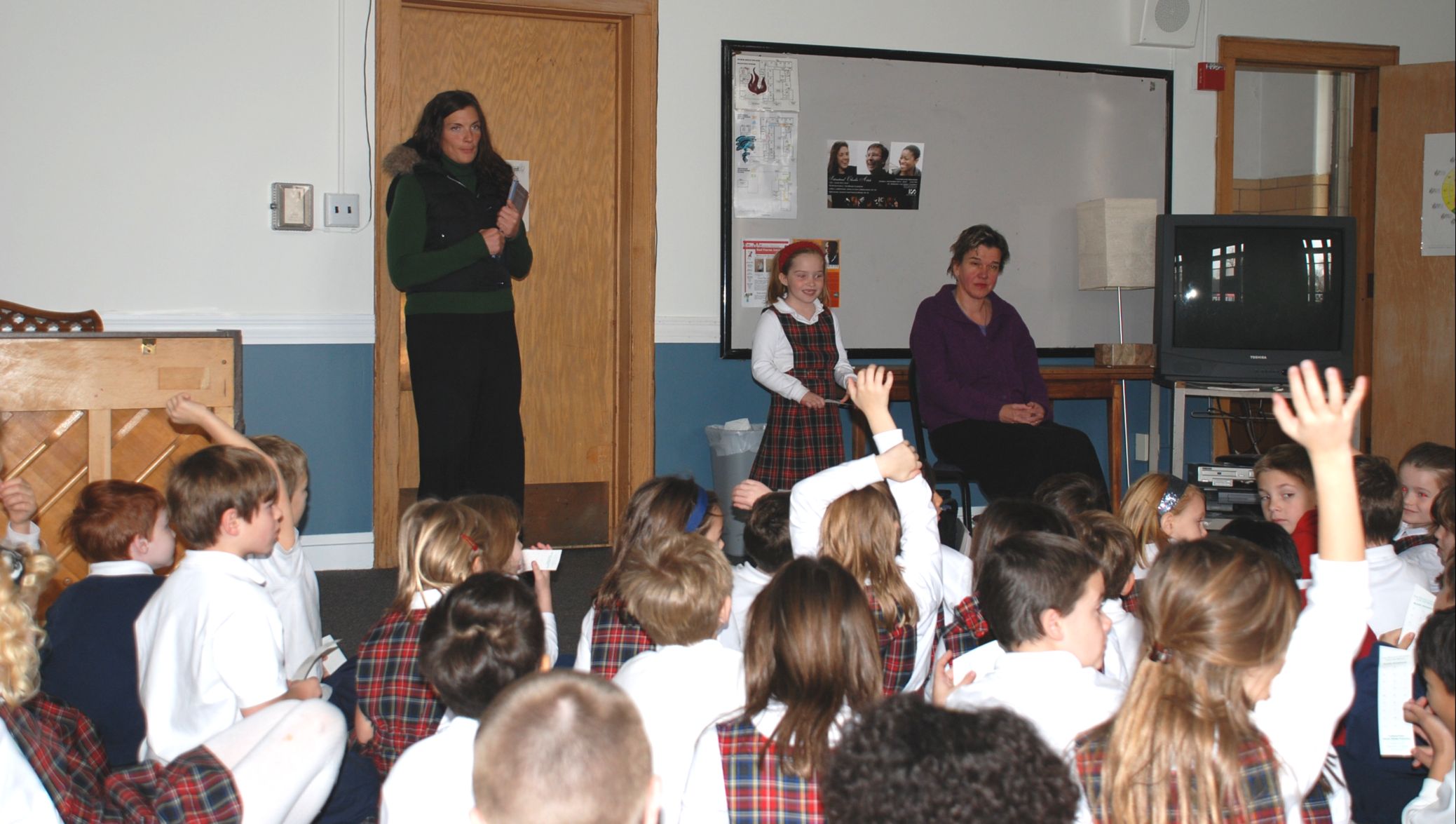 During school presentations, I show schoolkids how I read Braille. I tell them how I listen to books on tape. I explain how a talking computer works and describe the way I use a screen-reader to read email messages and check out newspaper articles online.
The kids learn I can't read print. So when teachers ask them to write thank-you notes afterwards, some of them reason, (wisely, I might add) that they shouldn't bother – Beth can't read print, and neither can Hanni!
Truth is, Hanni and I honestly and sincerely do not need to be thanked for visiting classrooms. If anything, we should be thanking the kids — their enthusiasm and curiosity buoys us for days and weeks after each school visit. But okay, okay, I will admit it. I do enjoy hearing what the kids had to say about us after we've visited.
Teachers often email a thank-you, knowing I can use my talking computer to listen to the note. Sometimes those emails mention how the students are still talking about Hanni days after our visit –it's gratifying! The class we visited at Washington Irving Elementary mailed a cassette — students recorded their thank-yous aloud. Their teacher told me it was hard to send the tape off to me — the kids liked reviewing it, they liked hearing their voices played over and over. And over. And over. They were reluctant to let the cassette go! When I visited my great-nephew Grant at Douglas MacArthur Elementary in Indianapolis, his class pasted gumdrops on a big sheet of heavy cardboard to spell out the words "THANK YOU" in Braille. When I read the card in front of the class, one of the gumdrops fell off – Hanni got a treat! And now this week Hanni and I are enjoying a new high-tech thank-you: Ms. Martin from Longfellow School wrote a blog post about our class visit last Tuesday, complete with video!
It's fun to experience the creative ways teachers and kids come up with to thank us. And I still do appreciate getting notes the old-fashioned way, too – you cannot imagine how entertaining it can be to hear Mike read some of the handmade thank-you notes that come in the mail. What can I say – Mike just has a knack for describing crayoned illustrations! A packet from our visit to Baranoff Elementary School in Austin Texas includes a card from Andrew, who was my initial connection to that far-away class. I met Andrew at a White Sox game in Chicago last summer. Long story, and I'll spare you the details. For this post, all you need to know is that Andrew drew an image of Hanni and me walking around the streets of Chicago: the Sears Tower, a factory, and what we think might be… a ballpark!
Many of the Austin thank-you notes said they liked that I was "funny." I must say, a sense of humor does come in handy when hearing thank you notes from kids. My favorite card in the Austin batch came from a girl who wrote, "even if you weren't blind, you wouldn't see me because I was absent." She still thanked Hanni and me for coming to her school.