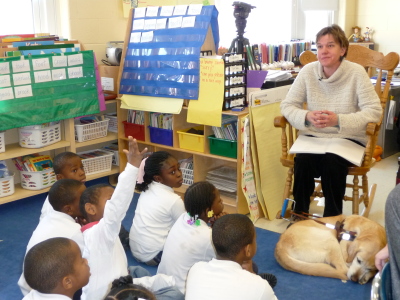 Last Tuesday morning a volunteer from Sit Stay Read! (SSR) braved the snow to chauffeur Hanni and me to a southside Chicago Public school. Sit Stay Read! uses volunteers and their dogs to bring the joys of reading to little kids, and it was our turn to make a school visit.
In order for a school to participate in Sit Stay Read!, 95% or more of the students enrolled must qualify for the
National School Breakfast program. The school we visited definitely qualified – the assistant principal told me that every child in the school lives in subsidized housing. "Most of them are from Harold Ickes," she said, referring to the Harold Ickes housing project on Chicago's near south side.
The University of Illinois at Chicago (UIC) Center for Literacy helped Sit Stay Read! design the program to coordinate with school curriculum — it's meant to improve children's reading fluency, encourage them to become successful readers, inspire them to explore the world through books, and help them learn to respect people and animals.
A Chicago Tribune story last year by Rick Kogan explains:
SSR's mission is fueled by sad statistics: On average, a child growing up in a middle-class family will have the benefit of as many as 1,700 hours of one-on-one picture-book reading before he or she enters school, while the child in a low-income family will have 25 hours.
Sit Stay Read! Uses dogs and volunteers in all sorts of clever ways: children read aloud to specially trained therapy dogs, Human volunteers visit as "book buddies" to help individual kids, and people like me come as guest readers – the books we read to the kids always have something to do with, guess what? Dogs!
Guest readers also teach the kids about possible careers – when members of Chicago's Lyric Opera visit, they read The Dog Who Sang at the Opera to the kids. Firefighters visit and read books about firehouse dogs. Visiting police officers read about police dogs.
I was asked to come with Hanni and talk about being a writer. "The kids will be thrilled to have you!" the Volunteer Manager assured me. I wasn't sure the kids would be thrilled,, but I hoped my stories of learning new ways to read and write after losing my sight might encourage them to keep trying.
And just in case that didn't thrill the second-graders to tears, I called my contacts at ABC TV in Chicago to ask if they might want to come along.
And so, a TV crew was with us at the school Tuesday morning to film the big event. The segment is slated for a Thursday ABC 7 Chicago 11 O'clock News show, I just don't know exactly which Thursday yet.
In the meantime, Hanni and I are featured on another sort of ABC. The American Booksellers for Children (known as ABC) is a national organization of several hundred independent bookstore owners, and its current newsletter lists Hanni and Beth: Safe & Sound as a top seller in their "Children's Book Week Section. We're in good company, too – get a load of the other great books on this list!
Hee-Haw-Dini and the Great Zambini by Kim Kennedy, illustrated by Doug Kennedy
Let's Do Nothing by Tony Fucile
Duck! Rabbit! by Amy Krouse Rosenthal, illustrated by Tom Lichtenheld
we are all born free: The Universal Declaration of Human Rights in Pictures by Frances Lincoln Children's Books
listening time by Elizabeth Verdick, illustrated by Marieka Heinlen
Mystery of Blackbeard the Pirate by Carole Marsh
Machines Go To Work by William Low
One Hen by Katie Smith Milway
Monkey with a Tool Belt and the Noisy Problem by Chris Monroe
Melvin Might? by Jon Scieszka
Say Daddy! By Michael Shoulders
Ocean Hide and Seek by Jennifer Kramer
Having our book mentioned along with a title like Monkey with a Tool Belt. is quite an honor! I hear that the Hanni and Beth: Safe & Sound cover appears on the list along with our book title, too. And even as a one-inch image, you can still see the ASPCA award sticker.
But the biggest thrill of all today? It came at the end of our school visit. I had told the kids early on in my talk that I used to be afraid of dogs when I was little. As Hanni and I were getting ready to go home, Ms. Keller (the second-grade teacher) told me a student had one last thing he wanted to tell me.
"I used to be afraid of dogs, too," he said. "But not anymore."
"What happened to change your mind?" I asked.
"I like your dog!" he exclaimed.
All I could say to that? "I do, too,"