Hanni and I are signing copies of Safe & Sound at the American Library (ALA) convention in Chicago this week. I swim at a lap pool in a Chicago hotel, and when I went to swim laps today I figured my eavesdropping along the way would tell me that the librarians had arrived. No talk in the lobby about which bobbie pins were best at holding hair back in buns, though. And nothing said in the elevator about which rubber stamp vendor to go to for stamping books at the check-out line. The people in the elevators didn't all sound old and mousy –- a lot of them were young, and hey –- some of them were men!
From the conversations I heard, there could easily be a technology conference in town this week. Or a business convention. An academic conference. An arts convention. Because, if you think of it, libraries can be all of these things — a place to go for technology, a place of business, somewhere to find books, videos, music. And the professionals who work at these places? They're as diverse as the libraries, all dedicated to providing information for others.
This is the second ALA convention Hanni and I are privileged enough to attend. Last year my sisters Marilee and Cheryl joined me at the ALA convention in Anaheim. Every day we went to author presentations, visited the exhibit hall, signed up for contests, picked up free pencils, post-it notes, books and catalogs.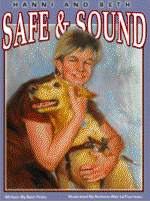 We made sure Safe & Sound was displayed front and center at any booth that carried this award-winning book. We knew librarians would love our book if they noticed it among the thousands of others featured at the convention! Cheryl couldn't make it to the convention this year, but Marilee is coming in from Orlando — she'll be with Hanni and me at our signings, making sure the lines flow quickly and I remember to include author visit descriptions and bookmarks with each book. We'll be signing at three different locations Sunday, Monday and Tuesday:
Sunday, July 12, 11 am to noon at the American Society for the Prevention of Cruelty to Animals (ASPCA) booth in McCormick Place.
Monday, July 13, 5:30 to 7:30, ASPCA Henry Bergh Children's Book Award Ceremony in the St. Gallen Room at the Swissotel on E. Wacker Drive in Chicago. This one is a cocktail reception, and it's free and open to the public.
Tuesday, July 14, 11 am to 1 pm, in booth #1626,the Illinois Society of Children's Book Writers and Illustrators booth, sandwiched right between Scholastic and Charlesbridge – they get lots of traffic, so it's a great location!
For more details on these signings, check out the schedule on my Web site. Hope to see (okay, hear) you at the convention!