Here's my husband Mike Knezovich with a book review.
Sometimes when I'm at an airport, a hotel lobby, walking down a city street, in an elevator, I watch the humans and think: Really, we're all monkeys.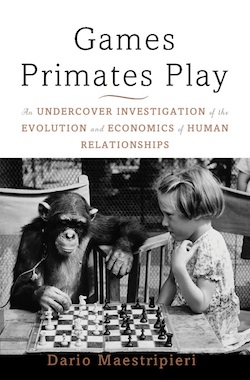 I learned there is some truth to that glib observation a few years ago when I wrote a freelance article on the work of Dario Maestripieri, professor of
comparative human development, evolutionary biology, neurobiology, and psychiatry at the University of Chicago. Maestripieri has been watching human behavior a long while and sees lots of our behavior as evolutionary strategies and traits – many we still share with other primates.
When I interviewed Dr. Maestripieri, I found out he actually used to live in our building here in the Printers Row neighborhood of Chicago. He rode our elevator every day and watched people give awkward acknowledgements to one another when boarding, then immediately look down, up, at their phone (anything but maintain eye contact); he recognized this behavior as very similar to that of rhesus macaque monkeys when they are in tight quarters.
For a rhesus, baring the teeth and staring are signs of aggression. It's a leftover in us, too.
That's one really simple example of a fascinating thesis that's really well-described in Maestripieri's new book, Games Primates Play. Those of you who remember the bestseller of yesteryear called Games People Play will understand that Maestripieiri is making a very deliberate play off that title. Where the older book looked at everything from a social point of view, Maestripieiri's work looks a layer deeper.
Example? Generally, a person walking into a crowded theater will look for a spot that has seats open on both sides. Only if none are available will the person finally plop down arm-to-arm with someone else. A sociologist might say that's because humans need personal space. In Maestripieri's research and new book, he asks, "Where does that need come from?"
I'm not doing it justice – I hope you'll give his book a read and, come down to our favorite neighborhood bookstore, Sandmeyer's, on Thursday night, April 19. Maestripieri will be giving a short presentation and signing books there at 6 pm. I'm going to do my best to be there with Beth – so come on, join us. After all, monkey see, monkey do.