My loyal blog readers will remember the tribute to our dad that my sister Cheryl wrote as a guest post here a few months ago. She's back today with this sweet essay about Flo on her 96th birthday.
Honey Girls
by Cheryl May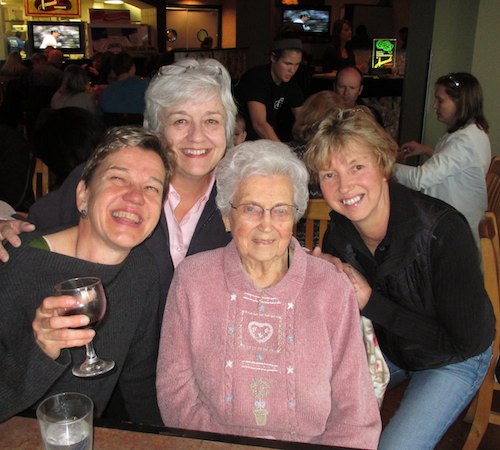 Last year we celebrated Mom's 95th birthday on the 95th floor of the John Hancock Building in downtown Chicago. It was her first time there, and she still talks about that special celebration. This year she told us she didn't want to do anything special. "It's gonna be special already," she said. "The new baby is due on my birthday!"
Well, Mom's birthday gift was delivered a little early. Her 20th great-grandchild, Addison Rose, arrived on April 13th….and what a beautiful gift. So when we gathered for Mom's 96th birthday yesterday we raised a glass or two — in celebration of both Mom's and Addie's birthday.
Our sister Bev drove in from Michigan and surprised Flo at the entrance of the restaurant, and our cousin Darrell stopped in, too. Mom marveled that her first birthday phone call that morning came at 7 a.m. "Seven in the morning!" she said, shaking her head in amazement every time she said it. "Can you believe that?"
What she couldn't know then was that a string of phone calls would be waiting on her answering machine when we brought her back to her condo, culminating with a Liberace-style rendering of "Happy Birthday" from Pick and Hank in D.C. Pick at the grand piano, of course!
A neighbor at mom's condo had decorated her door a la college dorm room days. "The sign said 95," Mom said. "She got it wrong. I changed the five to a six." Neighbors couldn't help but notice the sign, and birthday cards started piling up under her door. "So many cards!" she beamed. She didn't take a nap yesterday, so much going on and all. I don't feel tired," she assured us. "But I know I will once I sit down and put my feet up."
Some of us can never remember the name of the "new" small restaurant we meet at across from the Elmhurst train station, so we just say, "you know, Honey Girl." Heads nod, all of us remembering the clothes store that used to occupy that space when we were growing up. And today, it was the perfect name for the place we celebrated Florence Maria Martea Frederika and her new great-granddaughter Addie Rose: Honey Girl!