My dog got carded last week. Not at Hackney's, don't be silly. Everyone there knows Whitney is 21 (in dog years).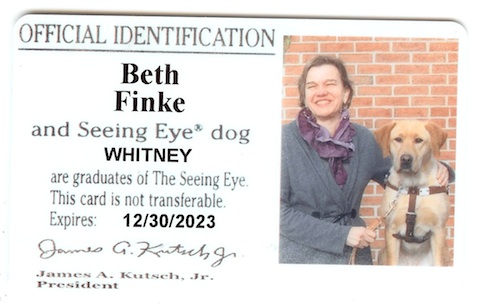 My Seeing Eye dog Whitney was carded last week in the lobby at 30 N. Michigan, a Chicago high-rise where my doctor's office is. Every human who walks in has to show an i.d. card, but this is the first time they've asked for an i.d. to prove that the superbly-trained three-year-old Golden Retriever/Labrador Cross who guides me through a revolving door, into their lobby, around their desk and onto the elevator is legit.
The building's security guard told me they'd all been told to ask for certification when anyone comes into the building claiming the dog at their side is a service dog. "A lot of them fake it," the guard said with a shrug. I wasn't surprised. I've written posts here about people I've run into who pretend to have a disability in order to bring their dogs everywhere, and my husband Mike has written a post about this, too.
Let's face it. It's not hard to tie a vest on a dog, and it's pretty easy to get fake certification for a dog as well. It's not easy to live with a significant disability, however, and faking that you have one is an insult to everyone who really needs their dog, and to the airlines, hotels, restaurants and stores who are trying to do what's right.
Last week National Public Radio (NPR) ran a story called Four-legged Impostors Give Service Dog Owners Pause and interviewed Tim Livingood, a man running one of the many,many businesses you can find on line that sells bogus service dog certificates and vests:
For $65, customers can procure papers, patches and vests to make their dogs look official. They can even buy a prescription letter from a psychiatrist after taking an online quiz. The laws are broad enough to allow that, Livingood says. While his business, the National Service Animal Registry, sounds official, he says government-sanctioned registration agencies do not exist — federal law does not actually require registration or identification patches.
It's true. There is no national registry of service dogs, and therefore no official i.d. to certify that a dog qualifies. The Americans with Disabilities Act (ADA) allows employees to ask a person if the dog is a service dog, and if the dog is required because of a disability. Documentation of the person's disability or the dog's training can NOT be required for entry into a business, but non-disabled amateurs think letters from bogus psychiatrists and dog vests will help them look legit, so they buy them online.
The Seeing Eye gives graduates an i.d. card for our dogs, and while I do carry Whitney's i.d. card with me, I've never had to use it before last week. It wasn't much trouble to fetch Whitney's i.d. out of my wallet, I'm just sorry that fakers have brought us to the point where the managers at the building require security guards to ask for such things.
It is a privilege to go through life without a significant disability, and I wouldn't wish blindness, or any other disability, on my worst enemy. Hearing stories like these, however, start me thinking we should come up with harsher punishments for people who fake or exaggerate disabilities in order to gain privileges from the government.