Sharon Kramer is a new writer in the memoir-writing class I lead at the Chicago Cultural Center. I'd intended on using an excerpt from her "One Thing I Didn't Like About My Mother" essay in my last blog post, but soon realized that to really get the gist, you have to read this wonderful essay in its entirety. So here it is.
Nothing is wrong. Why do you ask?
by Sharon Kramer
When my sister got a divorce, my mother wore sun glasses for an entire month. She loved my sister's husband, Lenny, and thought Marilyn was making a mistake by leaving him. She never said a word. Just wore the sunglasses. That was her statement.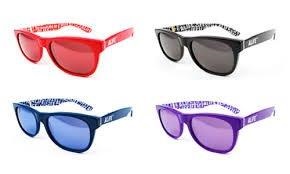 When I was married Mom wore sunglasses to my December wedding<!–more–>
because, I assume, she didn't like my choice of a mate. She never said a word. Just wore the sunglasses. I had to guess what she was thinking.
My mother wore sunglasses through every family trauma, dispute, emergency, abnormality, argument, or opinion that wasn't hers. I would often say, "Is everything ok, Mom?" She would invariably respond, "I'm fine. Nothing is wrong." She probably thought she was being strong and discreet. Actually, the sunglasses made a louder noise than screaming or stomping.
My mother believed that showing any emotion was a sign of weakness. She must have thought that the sunglasses were a perfect disguise, mysterious and controlled. What she didn't realize was that the sunglasses cut off all communication. We could never disagree with her or fight for ourselves or offer an opinion, because the sunglasses bellowed, "I am through communicating about this topic. Don't bother me." And, often we didn't even know what the topic was.
As a young girl I always thought I did something wrong when I saw the sunglasses balanced on my mother's nose. I would hide in my room and mope, trying to figure out what I had done to provoke her. Often I ended up apologizing. As I grew older, I realized she couldn't cope with feelings, fears and opinions and the sunglasses had nothing to do with me.
Travelling as a family, my mother would be the first to go to the ladies' room in a restaurant. If it was not to her liking, she returned to the table, popped open her purse and put on her sunglasses. "I lost my appetite," she would say, "but order what you want and enjoy yourselves." My sisters and my father were silent.
Of course, we left the restaurant and found another where my mother inspected the ladies' room while we all sat silently, hands and menus folded in waiting.
My mother wore sunglasses the day after I quit college. When my Dad went into a nursing home, Mom would visit in her dark glasses. You couldn't tell if she was crying, frightened, sad or relieved. When Mom's best friend Pauline died, I accompanied mom to the funeral. Of course, she wore sunglasses throughout the service.
When she was 100 years old, I took my mother to an assisted living facility for an interview. She had been saying that she needed more help.
On the way home in the cab, I said, "Well, mom, what did you think?" She opened her purse, took out her sunglasses, and popped them on. I knew we would never go back. We never did.