I have a children's book published, but here's a confession: I don't know a whole lot about children's literature. Not modern children's literature, at least. I read a ton of books when I was little, but after I traded my children's library card for one that got me into the adult section of the Elmhurst Public Library, I never looked back.
This means that when the Sheboygan Children's Book Festival started touting the writers who'd be there last weekend, I didn't recognize a single name. I just figured everyone on the list was like me: Midwesterners willing to travel to this out-of-the-way Wisconsin town to sell a few books and enjoy the quiet.
Boy, was I wrong.
The Sheboygan Children's Book Festival is spearheaded by two retired children's book librarians who volunteer their time to the festival, and every year these two dynamos manage to bring a few very highly-regarded children's books and authors to small-town kids in Wisconsin. Here's a sampling of just four of the 16 writers at the festival last weekend:
Kevin Henkes won a Caldecott Medal for Kitten's First Full Moon and Newberry honors for two of his novels, Olive's Ocean and The Year of Billy Miller
Blue Baliett wrote Chasing Vermeer and other mysteries for children that regularly appear on the New York Times best-seller's list
Peter Brown won a Caldecott Medal for Creepy Carrots, and he came from Brooklyn to be at the festival
Raina Telgemeier traveled from Astoria, New York to be at the Sheboygan festival, and she has a graphic memoir called Smile that was named a New York Times Book Review Editors' Choice.
So was I intimidated by all these famous writers? Heck no. I was impressed! Both with the fair organizers who got these writers to come, and the writers who took planes, trains and automobiles to get to Sheboygan.
And besides, who needs the New York Times or some fancy-schmancy medal? I've got a secret weapon: Whitney.
A volunteer driver chauffeured Whitney and me to visit small-town schools as part of the festival Friday, and at one school a starstruck boy approached to shake my hand. "You're the first blind person I've ever met," he said. When I took Whitney's harness off at another school to let kids pet her, one girl crawled up on all fours. "I'm a Seeing Eye dog," she said. Her friend was right behind, closing her eyes and grasping a belt loop for guidance.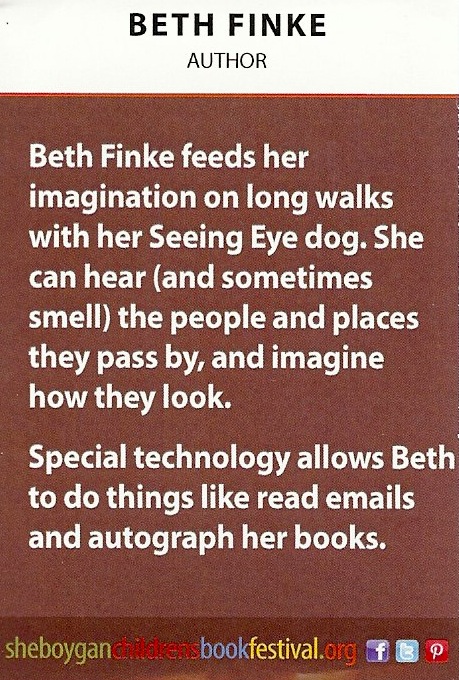 Our presentation the next morning was in a section of Bookworm Gardens dedicated to Helen Keller. the flowers and plants feel — and smell — sensational there. A six-year-old with visual impairments came to hear me speak, along with her brother and her parents. Maya is learning Braille at school, and she came up to the front to help me answer questions from the audience afterwards.
My favorite question from the entire festival came later. I sat on a panel about "Animal BFFs" and a woman in the audience wondered if losing my sight had heightened my sense of intuition.
"Whoa, I've never been asked that before!" I said, taking time to ponder. Do I? Sometimes I'm right about guessing which elevator will open first. Hmm. The other day I thought about Colleen, and when i got home there was a message from her on the answering machine. You think…and suddenly I realize I had my answer: no. if I'd had a good sense of intuition, I would have known she'd be asking that, and I would have been ready with a response!</p>