Growing up, the telephone was central to my family's daily life. In the early days we had what was known as a "party line." Essentially, you shared a connection with other households—if you picked up, you might hear their conversation instead of a dial tone, and you'd have to hang up and check later.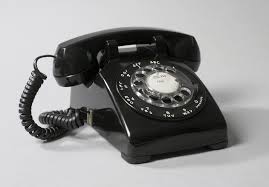 Eventually, that ended, and we had our own dedicated line. I still remember our number. I also remember being aggravated that my mother, an elementary school teacher, would be on the phone endlessly. Some of it was her propensity to talk, but a lot of it was her being a good teacher—she made herself available to parents of her students, and they took full advantage.
I remember being home sick from the first grade, and my mom staying home with me. I was lying on the couch and we were watching As The World Turns and Walter Cronkite came on to announce that President Kennedy had been shot. A little later, we learned the president was dead, and my mom was on the phone with her mother. "And now we have that SOB Johnson," I clearly recall her saying.
As I got older I would call my friends to arrange to do whatever we did back then. Sometimes we'd talk at length, though I can't remember what we talked about. And I remember, staring at the phone, picking it up and putting it back down, until finally I mustered up the courage to dial and ask a girl out for a date.
When I went away to college, the phone calls to home, to high school friends who went to college elsewhere, were somewhat precious – they weren't cheap. The same was true after I moved to Washington, D.C. to take my first job.
Today, I rarely have a real conversation on the phone. It's usually a brief confirmation of some arrangement already communicated via text or email. Even at work, it's the last resort—except for the painful modern phenomenon, the conference call.
Beth and I still have a land line. We kept it for all these years largely because Beth's mom, Flo, had a hard time hearing via a cell connection.
That was partly age and compromised hearing. But, as this terrific article in The Atlantic explains, it was more because, well, cell phones stink at being phones.
I hope you'll read the article—but in brief, the point is, as advanced as our smartphones are at digital stuff, they are a quantifiable step back in quality when it comes to voice transmission. For one, they don't cover the full audio spectrum that we need for a conversation. For another, the connections aren't nearly as reliable as old fashioned wire. And finally, something basic—they're not full duplex, which means, in plain terms, that two parties can talk at the same time.
I don't expect we'll go back to land lines, and having long, heartfelt phone conversations. But the article was a reminder that often, when something is gained, something else is lost.