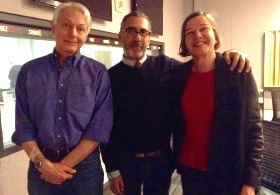 On Friday WBEZ (Chicago Public Radio) invited writer Mel Washburn and me to their studio to talk about the Sum Up Your Life in Three Songs assignment I gave to my Chicago memoir-writing classes last week. Mel is in the Monday class I lead for Lincoln Park Village. During the interview, Morning Edition host Tony Sarabia played excerpts from songs Mel had chosen and had him explain how he'd narrowed his choices down to three. If you heard us on the radio Friday — or listen to the interview online later –you might enjoy reading Mel's entire essay about his three songs. Here it is:
Three Songs = My Life (A Memoir)
by Mel Washburn
I don't play a musical instrument. I can't carry a tune in a bucket. But I love to listen to music. And my tastes in music have changed from time to time, reflecting, I think, changes in the way I feel about the world around me.
During the 1960's, my favorite song was Bob Dylan's Masters of War, which he sang while accompanying himself on guitar and harmonica. His voice was raw, angry, and accusatory as he sang:
Come you Masters of War,
You that build all the guns,
You that build the death planes,
You that build the big bombs…
Like Judas of Old, you lie and deceive
A world war can be won, you want me to believe,
But I see through your eyes,
And I see through your brain,
Like I see through the water,
That runs through my drain.
Dylan exactly expressed my thoughts and my feelings about the powerful men who were in charge of our nation's war economy, the men who had orchestrated the nuclear arms race and the genocidal war in Viet Nam. Like Dylan, I wanted to see them trampled and defeated.
After George McGovern lost the 1972 election in a landslide to the perfidious Richard Nixon, it seemed that the Masters had won. I was tired of feeling angry. My favorite musician became Ry Cooder. In five albums released during the seventies, he made versatile use of electric guitars, horns, strings, backup vocals, piano, etcetera to record unusual and expressive arrangements of traditional blues, calypso, gospel and country songs. One of my favorites was the 1930's How Can You Keep On Moving? which spoke for the Okies, who were harassed by cops and vigilantes as they travelled west to escape the Dust Bowl:
How can you keep on moving unless you migrate too?
They tell you to keep on moving, but migrate you must not do.
Yet the only reason for moving and the reason why I roam,
Is to move to a new location and find myself a home.
Ry Cooder gave this song a bouncy marching rhythm, accompanied by slide guitar, drums and horns. Yet he sang it in a hopeless, mournful voice. This ironic use of traditional materials to comment on the fundamental absurdities of life, without preaching and with a sort of resignation, mirrored my thoughts about the world at the time.
In the 1980's, I began listening to orchestral and chamber music. One of my favorite pieces is Ralph Vaughn Williams' ethereal, hopeful violin concerto called The Lark Ascending. Though commentators routinely try to express the ideas expressed in pieces like Lark Ascending, to me their value is that they allow you to experience profound emotions without being tied to ideas.
Recently, however, I find my tastes rounding back on themselves. In the ten years since our government began its Global War on Terror, I have often returned to the ideas and feelings that long ago made Masters of War my favorite music.