When Beth and I lived in Urbana, our couch backed up to a bay window that faced our neighbors' window—which was maybe all of 10 or 15 feet away. Our son Gus liked to lie on his back on the couch, with his feet sticking straight up over the couch back. This never failed to delight our neighbors Glen and Sandy, who took the sight of Gus' white-socked feet sticking up in the air as a sign that all was well in the world.
Glen was the first person ever to say Gus was handsome, lo these many years ago. And he was among the first to send happy birthday wishes on Gus' 30th birthday last month. People like Glen taking a liking to Gus and establishing a relationship with him means the world to us. And so, hearing from Glen last month was a double treat—because he also let us know that he would be in the Chicago suburb of Elmhurst for a show of his artwork.
When we arrived at the student center on the campus of Elmhurst College—which is hosting the show—Glen was in the middle of giving a talk about his art, his inspirations, his time at the School of the Art Institute of Chicago, and his career. The students and faculty asked a lot of good questions.
Glen had me as a friend forever by simply being a friend of Gus, but the truth is, I also absolutely love his work. One of his pieces hangs in our living room, a very thoughtful gift from Beth, who's really good at thoughtful gifts.
Those who live in Champaign-Urbana enjoy Glen's work even if they don't know it—he's done a lot of splendid Trompe l'oeil murals around both towns, transforming otherwise dreary brick walls into public art. He's also done murals for businesses and schools around the state and nation.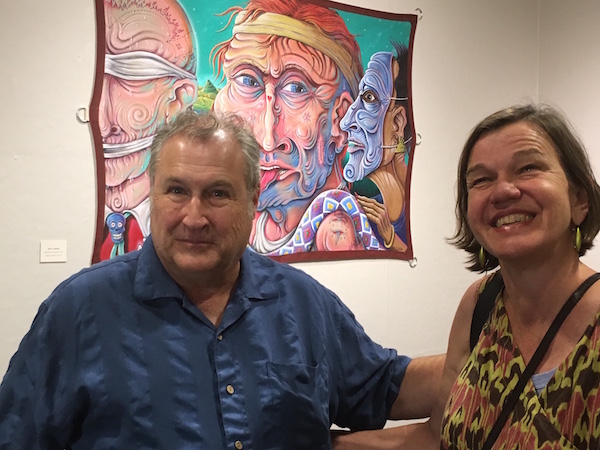 Besides murals, his work also includes some terrific drawings and sculpture. But the stuff I am mesmerized by are his circus-banner-style works on canvas. Sometimes the subject matter is also circus-ish—think side-show acts like sword eaters and such. Other works carry the style but not any direct link to the circus. They range from the whimsical to the macabre. In fact, Glen was once asked whether he had nightmares that kept him from sleeping. He replied that no, he got all that stuff out on the canvas, and he sleeps quite well, thank you.
It's been a privilege to know Glen as a friend, because we've been able to discuss his work at some length, informally. One thing that has always stuck with me: Much of his art, Glen told me, works with the notion of façade, and how hard we work to present a nice façade, and how different things can look when you peel back the covers.
That little insight—and his work—have always rung true. Whether it's fashion or architecture or whatever: We expend great effort on what something looks like.
You can see that theme in several of Glen's works that include cutaway views that reveal an underworld starkly different than the surface view.
I still stand in front of our Glen Davies piece, years and years since we hung it on our wall, and just gaze at it. And still I find detail I hadn't noticed, or facets of interpretation that are new.
Check out Glen's work at his website—it's pretty spectacular. Better yet, if you're in the Chicago area, you can check it out in person.
Glen's show runs through November 11th. It's on the Elmhurst College campus:
Frick Center, Founders Lounge
190 Prospect—the Founders' lounge is on the first floor, it's a student center of sorts.
I hope you'll go. Glen and his friend Gus would be delighted if you did.