As many of you know, Beth is a voracious reader. Or, to be technically accurate, a voracious listener. Between the Library of Congress' fantastic free audio book service and the commercial offerings of publishers and services like Audible.com, she's always got several books on her cool little listening device—it's called Victor Reader Stream. Bad name, great product.
I'm a voracious but impatient reader. I consume magazine style pieces, newspapers of all stripes, but I infrequently invest in whole books. I'm not proud of that. It just is.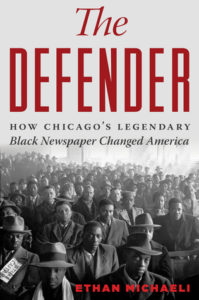 But because of Beth, I get to sample both fiction and non-fiction books, because she listens when we go to bed. If it's something that I don't want to hear, she puts her little device under her pillow, but otherwise, she puts it between us and I listen with her. And, because she usually falls asleep before I do, I end up hearing  more each night than she does. The penalty is that I then hear stuff again—she rewinds to the last part she heard before she snoozed away.
The current work we're listening to is The Defender: How the Legendary Black Newspaper Changed America.
It's a great read/listen. For those of you who've read The Warmth of Other Sons, you'll be very interested in the enormous role a weekly newspaper on the South Side of Chicago played in the Great Migration.
And if you want a taste of it, check out this excerpt in The Atlantic.
I love living in Chicago, warts and all. And one of the reasons is that, in large part owed to Beth and her memoir-writing classes, living here has taught me the huge role black people have played in the city's and the nation's history. I, like a lot of people, I think, had a Cliff's Notes understanding of the struggles and triumphs black people have faced that are traceable to our awful history of slavery.
The full, real stories are so much richer, so much more awful, and so much more triumphant than my abridged version was. And more enlightening.
Here in my Printers Row neighborhood, we have construction cranes all around building shiny new towers, and a few miles away, children getting killed by stray bullets. It's hard to reconcile that and understand and figure out how to change things.
We've got to get past simplistic ideas like bootstraps and vouchers on one hand, and vilification and labeling on the other. And, as a practical matter, I don't think we can understand how to do better until we face, understand, and reconcile the past.
P.S. The Defender is alive and well.