My next book Writing Out Loud will be out by early May. I'd cross my fingers for good luck on that statement if they weren't already occupied – I'm still busy typing last-minute revisions and rewrites! Here's an excerpt from the publisher's description–it's straight from the Books by Beth Finke page:
Writing Out Loud: What a Blind Teacher Learned from Leading a Memoir Class for Seniors is the touching story of Beth's experience teaching older adults how to capture their stories on paper – and deliver them aloud to their classmates.

In this memoir that reads like a novel, you will come to love the men and women whose poignant memories intertwine with Beth's. Through telling their stories, the members of her classes come to know each other and connect more deeply with their own families. The experience is rich with life lessons for both students and teacher.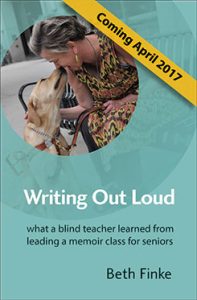 I've been meeting with Nancy Sayre, my editor at Golden Alley Press (a small independent publisher outside of Philadelphia) over the phone every week since we signed the contract last year, and her counsel over the phone has been indispensable. She's made me feel like we've been friends for years, but, truth is, we hadn't met face-to-face until last week.
Nancy was in town to meet with her Chicago writers, and my time slot was Sunday. She and I spent time together, and when Mike joined us for lunch at Blackie's afterwards, he and I slid into a booth across from Nancy. As she quietly looked over the menu, Mike and I got involved in some lackluster discussion about the mechanics of our lives;  whether I was going to go swimming that afternoon, when he might go grocery shopping that day, whether he'd finished the crossword puzzle that morning. When I got a sense Nancy had made her lunch decision, I nudged Mike under the table and looked her way. "Oh, keep talking," she said. "It helps me know how you two are when you're together." She said it might help when she's editing, so we did as she asked.
I got a good laugh about that later. Gee, Mike and I have a reputation among people who know us firsthand for talking a lot. Can't explain where that comes from, but I'm fairly confident that day in that booth with Nancy Sayre marks the very first time in my entire life with Michael Knezovich anyone has ever urged us to keep talking.
Nancy continues to help me shape my writing for the better, and you can get a sneak peek of a short chapter online now: Just complete the form here.
And stay tuned, there's more to come.