There are a lot of things I love about going to White Sox games. For one, it's easy from where we live—three stops on the Red Line. Door to door it's 15-20 minutes.
And it's always fun to ride with fellow fans, as well as the out-of-towners wearing their colors. On the walk from the L stop to the gate, there's a cacophony of vendors and people looking for or hawking tickets.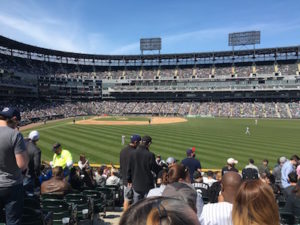 Entering the park, there's the smell of onions and peppers and various encased meat on the grill. And there's eating said encased meat, sometimes meats. With a beer. Sometimes beers.
And, best of all, I can afford it. Especially in April.
The White Sox offer this thing called a Ballpark Pass. You download the Ballpark app to your phone. You pay $39.95. And you can go to all 10 April home games. That's a  hair less than $4 a game. I know this because one of the dates was postponed and I received a very nice email the next day notifying me that I was being refunded my $3 and change for the lost date. So, you can well afford to not get to all the April home games and still be way ahead.
The seat locations show up on your phone a few hours before game time. So you might end up in the upper deck, but so far, we've gotten good lower deck locations. For another $25 you could add an opening day ticket. Beth and I skipped the opener (thank goodness, as it was cold and rainy and ultimately postponed). But we bought two passes this year, and I've already been to two games.
Last Saturday was the first sunny, warm day in forever, and our friend Patrick subbed for Beth, as she was toiling, toiling on her writing. We sat in the sun. We talked baseball some of the time. We just sat quietly taking in the chatter around some of the time. And we ate encased meats and drank beer some of the time. (I will add that it didn't take Patrick very long to eat his—he could hold his own in an eating contest.)
I walked out of there about as relaxed and content as I have been in a long time.
Then Sunday, we bicycled down with our pals Jim and Janet. Sundays are family promotion days for the Sox—cheap tickets and cheap parking and cheap food—and there are a ton of families and kids there doing kid things like eating ice cream, and asking endless questions about the quirks of the game, like why a player can hit the ball a long way and still be out.
And I rode home as content and relaxed as I'd been since, well, the day before.