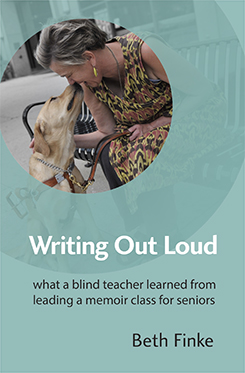 For all you patient readers who prefer hard copy to e-books, your wait is over. The print version is here, available for order on Amazon.com, and soon to be at Sandmeyer's and other fine booksellers.
You Safe & Sound blog readers are going to recognize some of the characters in this new book of mine — many have written guest posts here. Chronicling my time with a remarkable bunch of senior citizens has been a labor of love, and I hope reading Writing Out Loud leaves you loving (and learning from) them as much as I do.
Here's the link to check it out: http://amzn.to/2pGpQOa
One advantage of books in print? The author can sign them for you. And who knows, Whitney the Seeing Eye dog might give you her paw print signature as well.
It's been an emotional week here — we got news yesterday that one of Whitney's predecessors, my retired Seeing Eye dog Hanni, had to be put down this past Wednesday. That loveable ball of fur lived an amazing 17 years. Hanni had her own book, of course, and is a major player in Writing Out Loud as well. Mike and I are still processing all this, and I hope to write a more proper tribute to Hanni here — an excerpt about her from the new book, perhaps — once all of this sinks in.