This just in! The Hinsdalean newspaper did a great article on our visit. You can read it here if you want to get another point of view on our class visit.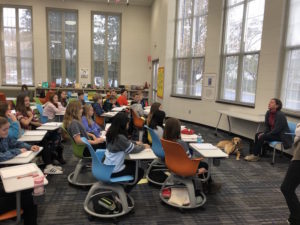 Whitney and I spent an entire day last week with sixth-graders at Clarendon Hills Middle School (CHMS). I've visited students at hundreds of elementary schools over the years to talk about disability awareness and service dogs, but last Friday marks the first time I'd ever been asked to visit a middle school and talk specifically about memoir-writing: the CHMS sixth-graders are preparing to write their own autobiographies.
Before we arrived, teachers had them read six chapters from my new book Writing Out Loud that demonstrate how autobiography and memoir can communicate a specific theme:
Prologue, in which I explain how it is I decided to write a second memoir
The Brown Envelope, in which I'm asked to lead a memoir-writing class for the City of Chicago's Department on Aging
My Turn, in which I relate my own family history
Hanni and Beth Hit the Road, in which we start traveling to promote my children's book Safe & Sound
Mustang Beth, in which I drive a race car 80 mph
Tough Guys, in which a man in first class worries if I was okay sitting between two scary-looking guys on a flight to New Orleans
I arrived in Clarendon Hills prepared to talk about making a memoir come alive, engaging readers, choosing which life episodes to include in your memoir, that sort of thing. What I wasn't prepared for was how thoughtful and insightful the sixth-grade questions would be after my presentation. Some examples:
If someone asked you to sum up your life story in one word, and that word couldn't be the word "blind," what would that one word be?
How do you picture the modern world?
What is your favorite word to use when you're writing?
Was Minerva the only one in your class who took a tape recorder?
Do you ever think about what your life would be like if you were an author who could see?
Do you think you perceive the world differently because you're blind?
You say you can only see the color black now. If you could pick another color to be able to see all the time, what color would you pick?
What was your first thought when you got into the Mustang?
What is your favorite chapter in Writing Out Loud?
When you were driving the car with Tommy Kendall, was the experience what you thought it would be beforehand?
What is your favorite word to use when you're writing?
If you met a kid who was blind, or a kid who knew he'd be blind someday, what advice would you give them?
If you could be sighted again for just one hour, what would you want to see?
Why did you laugh when that man in first class told you the guys next to you looked scary?
Did you write stories when you were little?
If the girl you were before you were blind could see the future and found out you would become a famous author, what would she say to you?
Has anyone ever judged you for being blind? How about for being a writer?
You told us how you learned to use rubber bands and safety pins to keep track of things. You're a good problem solver, do you ever want to be in a group that invents things for people who need them?
How are you able to write about yourself without sounding pretentious?
Would you do all these amazing awesome things if you weren't blind?
Did you think that guy in first class was being rude, or being helpful?
I don't have a question, but I have a comment. I keep looking at your dog, and now I know Whitney is my spirit animal.
Do you wish you would have not been in the hospital all those months and just saw everything you could instead? I mean, do you wish you just went blind all of a sudden so you didn't have to be in the hospital all that time?
Whew! What can I say? Those sixth-graders at Clarendon Hills Middle School are wise beyond their years.