The essay Maggy Fauché wrote for our "The First Time I Laid Eyes on You" prompt last week was about a teenage crush. When I wondered out loud how she managed to capture those long-ago feelings so beautifully, she gave all credit to Orhan Pamuk .
Orhan? I thought the crush was on a guy named Curtis.
Maggy kindly informed me that Orhan Pamuk is a Nobel-prize-winning novelist from Turkey. I've long believed that reading other works can be the best inspiration for writers, and Maggy agreed. "His descriptions of love — and obsession — are so beautiful," she said, explaining how she'd just been reading Pamuk's book The Museum of Innocense. "I guess he inspired me." Hearing that recommendation inspired me to download the audio version of Pamuk's book, and with Valentine's Day coming up, now Maggy's essay might just inspire me to write about a schoolgirl crush, too.
by Maggy Fauché
The first time I saw you, Curtis, sitting on the other side of the school library with your pals, something expanded in my chest and cut off my air supply. My hands felt clammy and my head got really hot. When I was finally able to swallow, a huge lump rolled down my throat straight into my stomach.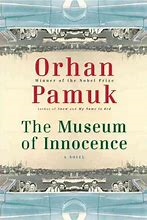 At fourteen years old, I had never seen anyone so handsome outside the pages of 16 Magazine. You were tall, slender, with chocolate brown skin, a beautiful smile, and a glorious Afro that defied the school administration's restrictions on student hair length.
After you left it took a few minutes before my heartbeat returned to normal. I couldn't focus anymore on my homework. I slowly collected myself and headed for home. On the subway I kept seeing your face. On the walk home I frequently stopped in my tracks, unable to move whenever your image flashed into my mind.
For a while I kept your existence a secret until that day I saw you on the boys' side of the cafeteria. I poked my friend Frances hard in the ribs. "You see that guy?" I managed to whisper
"Who? Who?" she squeaked, sensing romance in the air.
My mouth went dry. I could barely nod in his direction.
"Oh that guy? He's cute! Who is he?" Frances said, turning to announce to the group of bookworms/theater kids I always sat with. "Hey everybody! Maggy likes that guy over there!"
I had to beg them to calm down, be quiet, and stop staring. "Go talk to him, Maggy," someone suggested.
Talk to you! Unthinkable! You were a demigod, and I a mere mortal. Plus any chance of a relationship was doomed by my parents' rule that I could not date until I was eighteen.
With my friends' help I found out your name, that you were a senior, and that you were on the yearbook staff. I was prepared to spend the rest of my life worshipping you from afar until the day Kim visited our lunch table and I told her about my crush.
"Oh you like Curtis? I know him. He lives on my block. Come on and talk to him!"
Before I could stop her, she ran to your table. I saw you both talk, look in my direction, and smile. Kim practically skipped back towards me. "Come on, he wants to talk to you!"
My body had turned to stone. The weight in my stomach made me feel nauseous. "No", I moaned, but my friends pushed me towards what they were certain was my romantic destiny.
I don't remember what we talked about. I do remember you were kind. And gracious. You somehow put me at ease. I was able to talk to you without getting sick.
The few times I saw you after that I could smile and say hi without suffering any symptoms. My life returned to normal.