January 17, 2008

• 5 Comments • Posted in Beth Finke, travel, Uncategorized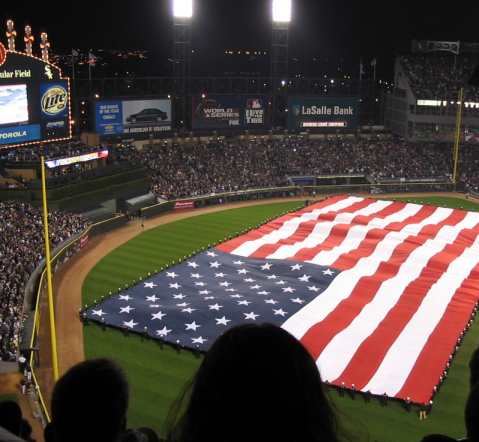 When I answered a craigslist ad to write blurbs for Not For Tourists – Chicago, I didn't have my heart set on writing for a guidebook. I was just curious to find out if
1. Not For Tourists would hire me if they knew I was blind, and
2. readers would notice my travel writing doesn't describe the way things LOOK.
The answer to the first question is yes. Not For Tourists rocks. As for question #2, the jury is still out.
I already blogged about my travel essay in Dog Fancy this month.
As far as I know, Dog Fancy editors haven't received any letters from disappointed readers. The 2008 version of Not For Tourists – Chicago is out now, too. No word on any letters complaining about my "visually clueless" blurbs. Not yet, at least.
If you're curious how a person might write about sightseeing without having…well…sight, here's the excerpt I wrote for NFT about US Cellular Field:
Both of Chicago's major league ballparks are named for corporations (one famous for gum, the other famous for cell phones) but the similarities end there. Any White Sox fan will tell you: tourists pay big bucks to watch ivy grow in the little place on the North Side, real baseball fans head to see the White Sox play at U.S. Cellular Field.
Straddled by the Bridgeport and Bronzeville neighborhoods on Chicago's south side, US Cellular Field opened in 1991 to replace the old Comiskey Park. The new park was built for $167 million–a relative bargain even in 1991. Cost-cutting meant altering the original design, though, and not for the better. What the park lacks in beauty, it makes up for with its friendly staff and fabulous food—perennially rated among the best in Major League Baseball. Meat-eaters: Follow your nose to the grilled onions and say "Polish with." Better yet, say "Polish witt." You'll get a sublimely good Polish sausage smothered in caramelized onions. Come hungry on Thursdays: Ball Park Franks are $1 and Best's kosher hot dogs are $2.50 each at select concession stands during all Thursday home games.
And if you're hoping to hear about fashion, or business deals, or coffee shops, this ain't the place. Fans here talk about baseball. They love the game, and they love the team that FINALLY brought a World Series trophy to Chicago in 2005.
Nancy Faust, the hardest-working (and most creative) organist in baseball, has been the official White Sox organist since 1970 and still plays day games. And Roger Bossard—an obsessive-compulsive turf guru who consults to sports franchises around the world—maintains one of the most beautiful, truest playing real-grass surfaces in all of sports. Bill Veeck's scoreboard explodes with fireworks at each home run, and street musicians serenade fans as they head to the red line or the parking lot after games.
Back to me: If you're wondering how I know the real-grass playing field is beautiful, it's because I am one of the few civilians ever allowed to step on it. Back in 2004, I toured US Cellular with a bunch of blind high school students. But that's fodder for another blog. For now, I'm heading to the kitchen. Writing about those carmelized onions made me hungry.