August 2, 2008

• 10 Comments • Posted in blindness, guide dogs, Seeing Eye dogs, travel, Uncategorized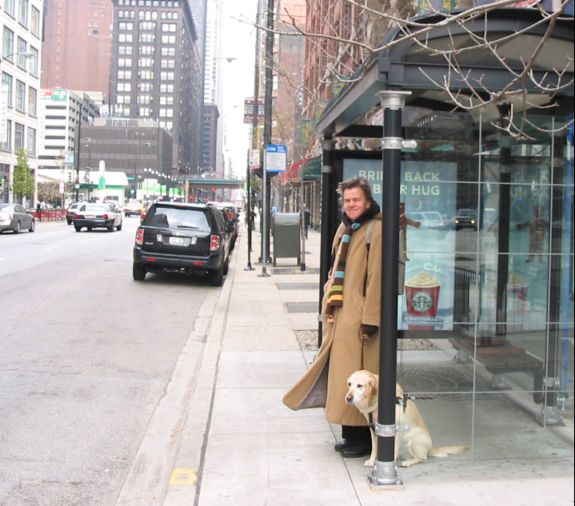 Last week I read an essay written by a reporter whose notebook fell into the New York City subway tracks.
Since one train had just left, it would probably be about seven minutes before the next one arrived. At the very least, it would be five minutes. Jumping down to the tracks and picking up the notebook would take no more than a few seconds. So that would leave four minutes to climb back.
The essay was written by Jim Dwyer, and it grabbed my attention. I live in Chicago and am proud (you could even say haughty) of how efficiently I get around the city with my Seeing Eye dog. Hanni and I walk long distances, jump into cabs, ride CTA buses…but we NEVER take the el by ourselves.
During the 1990's, when I was working with my first Seeing Eye dog Dora, a number of blind people using guide dogs died after falling into subway tracks in Boston and new York City. They fell in, but couldn't see to find the ladder to get out. This 1993 NY Times story explains how one woman perished:
A blind woman led by a guide dog was killed yesterday when she fell from a midtown subway platform and was struck by a train as she frantically tried to climb back over the platform edge, the transit police said.

"We don't know how or why, but she apparently slipped over the edge, leaving her dog on the platform," said Albert W. O'Leary, a transit police spokesman…

Ms. Schneider was killed at 9:18 A.M. after she fell onto the southbound express tracks along the Broadway line. Witnesses said Ms. Schneider got up and tried to find the edge of the platform with her hands as a southbound No. 3 express train roared into the station with its horn blasting.
I am not afraid of much. I am, however, afraid of the el. Plenty of people who use guide dogs take the subway safely back and forth to work every day. I, however, am not one of those courageous blind people.
The Americans with Disabilities Act (ADA) now requires subways to mark platforms with bumpy material to warn blind people away from the edge. But the image of those people stuck in the track still haunts me. Bumps on the platform edges aren't enough. When it comes to getting around Chicago, Hanni and I keep our feet –and paws – on ground level.
PS: The New York Times reporter who dropped his notebook? He did not climb down to the tracks to retrieve it – he let subway officials do that for him. His essay is very appropriately titled, Celebrating Prudence and a Trip Not Taken.