April 7, 2008

• 1 Comment • Posted in book tour, Hanni, Uncategorized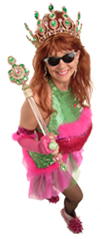 The Sweet Potato Queen was one of the top speakers at the Arkansas Literary Festival last weekend. The Sweet Potato Queen's' Book of Love came out in 1999, and two subsequent titles (The Sweet Potato Queens' Field Guide to Men: Every Man I Love is Either Married, Gay, or Dead and The Sweet Potato Queens' Big-Ass Cookbook) were New York Times® #1 bestsellers.
And so, you may have heard of the Sweet Potato Queen, aka, Jill Connor Brown. Chances are you have never heard of Kyle Jennings, though. Kyle is married to the Sweet Potato Queen and is known to her readers as simply the "Cutest Boy in the World."
I may not be able to vouch for his good looks, but I can say this: that Kyle guy sure is nice.
My friend Nancy led Hanni and me to our panel Saturday morning. A festival volunteer guided us to our noontime presentation at the Arkansas Historical Museum. Nancy wasn't all that interested in the Sweet Potato Queen, so she took off after helping me to a seat at Jill Connor Brown's presentation later that afternoon.
When Kyle Jennings saw Hanni and me sitting alone, he stopped to ask if we needed anything. I knew he and the Sweet Potato Queen were staying in the same hotel we were, so I made a confession: I had no idea what the route back to our hotel was.
Kyle said he'd be glad to walk Hanni and me there after the presentation. "But we'll have to wait until Jill is done signing books."
The Sweet Potato Queen is popular. VERY popular. Women stood in line for, hmm, at least an hour to get Jill to sign copies of various Sweet Potato Queen titles.
So while Jill signed away, Hanni and I waited outside on a bench. Sunshine, birds singing…it couldn't get better than this.
But then, it did.
Kyle Jennings saw us outside and approached our bench. "Mind if I sit with you?" he asked. I scooted over, and, of course, we got to talking. He spoke lovingly about their own dogs. One is a rescue dog who had been hit by a car and left to die. A leg had to be amputated as a result of the accident. They named the dog Sosti, Kyle said. "Sost means 'three' in Ethiopian."
We traded all sorts of stories after that. Eventually I unbuckled Hanni's harness. She needed a break.
"Can I pet her now?" Kyle asked. I thought he would jump out of his shoes when I said yes. He ended up taking Hanni for a walk, picking up after her when she emptied, finding a bottle of water and cutting off the top so she could get a drink. How they bonded.
The Sweet Potato Queen sounded exhausted when she finally came out to join us. We all took off for the hotel, but after one block Jill asked if Kyle and I wouldn't mind going on without her. "I'm going to duck in this gallery and rest," she said. "I can't walk that far in these heels!" She asked Kyle to pick some things up for her from their hotel room – he'd come back with the car.
And so, Hanni and I proceeded on, our heads held high. After all, we were being escorted to our fancy-schmancey Little Rock hotel by the cutest boy in the world.