December 19, 2007

• 4 Comments • Posted in Beth Finke, guide dogs, Hanni, radio, Seeing Eye dogs, Uncategorized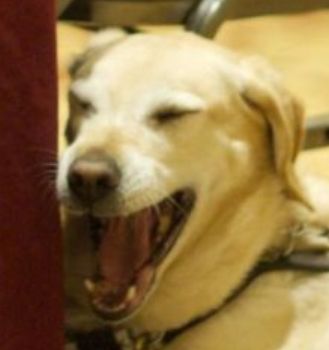 Wanna hear what we sound like on the radio? Here's your chance! Hanni and I were interviewed — not just once, but TWICE — on Chicago radio stations this week.
First, we were on the Betsy and Sal Show on WGN-AM Radio on Sunday, December 16. You might remember Betsy and Sal from my "Walking on Air" blog post. Betsy and Sal are sisters and have a syndicated show on a small station in the Chicago suburbs. For the last two Sundays, however, they broadcast from WGN in Chicago – a kind of "audition" for the big time.
And if you ask me, they passed the audition! They interviewed me over the phone, and the time seemed to fly by.
Unfortunately, Betsy and Sal's WGN radio show from last Sunday is not available online. The interview Hanni and I did December 18 is available online, though: we were on Chicago Public Radio! I heard the rebroadcast of that show on Tuesday night, and must say: it's one of the best interviews we've ever recorded for radio. I remembered to take my Time, breathe, not rush answers, and most important…I remembered to smile.
I've been told it's good to smile while you are talking on the radio. A smile comes through even when you can't see the person who is smiling. Even if you are saying something that isn't exactly funny, you should smile: it engages listeners.
I've known that's true in real life for years, of course. But for some reason it hadn't occurred to me that a smile would transfer over radio, too. After listening to Tuesday's broadcast, I'm convinced. We sounded good.
Oh, but please forgive me. I keep saying "we" — I keep talking about how you can hear "us" on the radio. Truth is, hanni doesn't bark; guide dogs are trained not to bark. Hanni is a public figure, after all — she is highly trained to present herself in a professional manner. She just smiles.