April 21, 2008

• 17 Comments • Posted in Hanni, travel, Uncategorized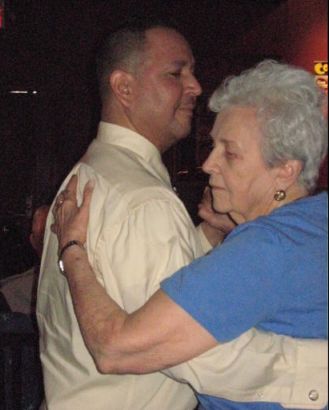 Move over Marlee. Flo is back.
After spending a month last winter in the hospital mending from cracked ribs and a fractured pelvis, my mom celebrated her 92nd birthday doing what she loves: dancing.
Flo fell in her apartment in December. She went through rehab at the hospital, then had a physical therapist come to the house for a while. Since then, she's been rehabbing on her own, going through the exercises prescribed by the physical therapist every day, and adding a bit more on her own. One day she would take a couple steps with her walker, the next she'd head down to get her mail by herself. She figured out how to get down the hall with a walker to do her laundry, how to take the garbage out, how to get outside on her own when my sistr Cheryl came by to help her run errands.
Last weekend, Flo joined us in Louisville to celebrate her birthday. She danced. Both Friday and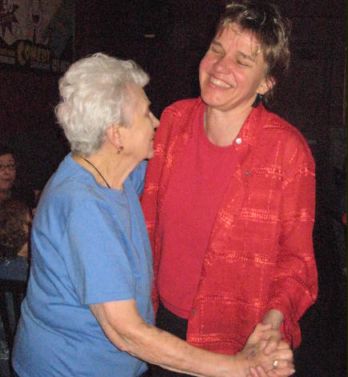 Saturday nights. A highlight: on Friday night a complete stranger approached and asked her to the dance floor. She is still beaming. "He was a good dancer!"
Note: one does not have to be able to see to tell if someone else is beaming. You can feel it in the air.
My dog did not join Flo on the dance floor –Hanni has two left feet. Hanni did honor Flo when we all got back to the hotel, though. I shared a hotel bed with Flo, and when the belle of the ball climbed into bed next to me Saturday night, she couldn't help but boast. "Hanni is sleeping on my side of the bed tonight," Flo whispered.
I wasn't surprised. Hanni has a nose for talent.