October 16, 2007

• 3 Comments • Posted in book tour, travel, Uncategorized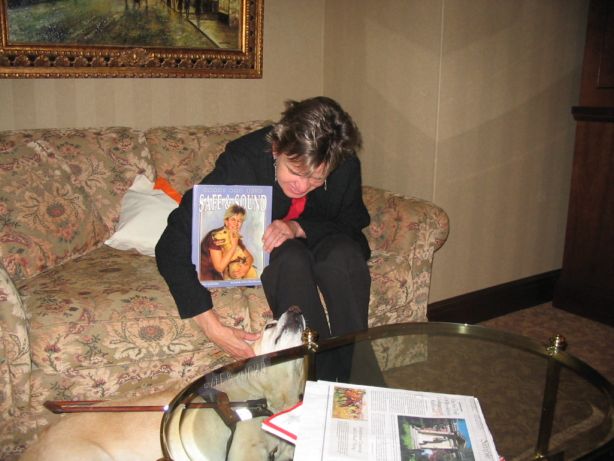 "Is your hand tired?" "You doing okay?" "Got writer's cramp yet?"
Those are the questions I was getting last night at the Easter Seals national Convention. It wasn't until Hanni and I got back to our hotel room that I realized why: I'd been signing books for two hours!
Here's the deal: I work part-time for Easter Seals Headquarters in Chicago. I'm the "interactive Community Coordinator" there – a fancy-schmancey title that means I moderate the Easter Seals Autism Blog. You have Easter Seals to thank – or blame – for this blog I've started about my new book. It was at Easter Seals that I learned to use the blogging tools.
When Easter Seals found out Hanni and Beth: Safe & Sound was coming out at the same time as their national convention this year, they arranged with my publisher to produce a special Easter Seals edition. The special edition has the same cover design as the regular book, but the inside book flap is different – it describes my connection with Easter Seals. The back of the special edition features the Easter Seals logo and explains "Vision 2010": Easter Seals' goal to serve 5 million people with disabilities annually by the year 2010.
I spoke at the Easter Seals President's Council event last night — President's Council members each give $1000 to Easter Seals annually. After my speech, each President's Council member was given a copy of the special Easter Seals edition of "Hanni and Beth: Safe & sound" as a thank you gift. Members stood in line for me to sign and Braille my name into their books — Hanni's paw print was rubber-stamped onto each copy, too.
It was such a happy occasion, it never occurred to me we'd been sitting there signing for two hours! Hanni noticed, though – by the end of the night her paw was in my hand, she was begging me to go home with her. Or in this case, to go back to the hotel room. And trust me, when we got there, we both slept very well. You know…safe & sound!