September 24, 2017

• 8 Comments • Posted in careers/jobs for people who are blind, guest blog, memoir writing
My memoir-writing classes don't meet during the Jewish high holy days (the ten days between Rosh Hashanah and Yom Kippur) but that doesn't mean these seniors stop writing!! I was so moved by this email Hugh Brodkey sent yesterday that I asked if I could share it with you Safe & Sound blog readers.
Hi, Beth,
At temple for the Jewish New Year, our rabbi made a couple of comments that I realized might suggest writing assignments.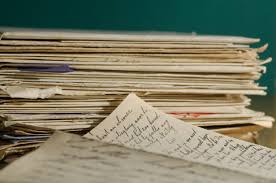 He started off by saying that he had recently been helping his mother downsize in order to move into a senior residence. She had lifetime collections of letters and greeting cards from her family and kids as they were growing up, many, many family pictures and a major collection of decorative pill boxes.
What do you move, and what do you give away? If you decide to give it away, who wants it? If nobody wants it, what happens to it? (This last point struck a chord with me. When my Dad died, he left an office where the walls were covered with framed awards and testimonials. We couldn't figure out what to do with them.)
The rabbi's sermon then shifted to the current crises of flooding and forest fires and earthquakes in which thousands of people are told that they have only a few moments to decide what to carry out with them to safety. Almost invariably it was the family pictures and mementos…most of which had no value to anyone but themselves.
What does that say about how we live our lives…or how we should live our lives? What is more important in our lives than what? Hope we never have to make such important quick decisions……and that you and your family have a peaceful New Year!
Best…Hugh