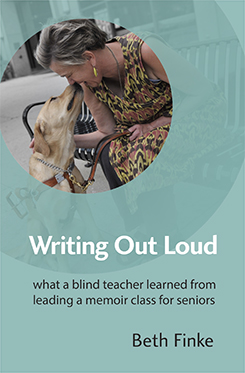 Writing Out Loud: What a Blind Teacher Learned from Leading a Memoir Class for Seniors is the touching story of Beth's experience teaching older adults how to capture their stories on paper – and deliver them aloud to their classmates.
In this memoir that reads like a novel, you will come to love the men and women whose poignant memories intertwine with Beth's. Through telling their stories, the members of her class come to know each other and connect more deeply with their own families. The experience is rich with life lessons for both students and teacher.
Publication date: April 2017
---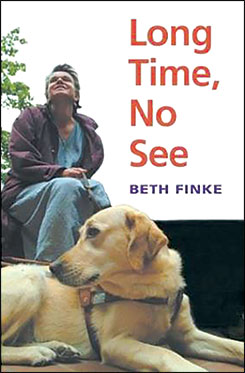 Beth's first memoir, Long Time, No See, chronicles the progress of the juvenile diabetes that left her blind at the age of twenty-six. First she was forced out of her professional job. Then she bore a multiply handicapped son. But always Beth kept moving forward, confronting marital and financial problems and persevering through a rocky training period with her Seeing Eye dog.
"Be it her strength, her honesty, or her enduring sense of humor . . . Beth manages to tell her story in a way that shocks, informs, and inspires. She says things that others typically won't, and it is both refreshing and thought provoking. You will laugh, cry, and get angry with her, but you will be left with respect and admiration. Long Time, No See is a fantastic read."  — Dr. Miriam Nelson, author of the Strong Women book series, in the Strong Women Newsletter
---
Hanni and Beth: Safe & Sound, is the story of how Beth, who is blind, travels safely around the city – to work, shopping, even to baseball games – with the help of Hanni, a specially-trained Golden/Labrador Retriever. It's a touching tale of mutual devotion and teamwork.
Hanni and Beth: Safe & Sound includes factual information about how Hanni was raised and trained, how Beth and Hanni learned to work together as a team, and what it's like to be blind.
---
Audio and Braille Editions for People with Disabilities
The National Library Service (NLS) is a free Braille and talking book library service for people with temporary or permanent low vision, blindness, or a physical disability that prevents them from reading or holding the printed page.
Through a national network of cooperating libraries, NLS offers books the way you want them: in Braille or audio formats, mailed to your door for free, or instantly downloadable.
To apply for NLS, complete the form available at this link: https://www.nlstalkingbooks.org/talkingbooksform/?loclr=nlstalk
If you are already signed up for the NLS service, Long Time, No See is available free of charge on audio or in Braille from NLS. The call number for the audio version of Long Time, No See is DB56482, and you can order it in Braille at BR14821. The call number for Hanni And Beth: Safe & Sound on audio is DB67181.
Blue Marlin Publications has teamed up with Seedlings Braille Books for Children to produce Hanni and Beth: Safe & Sound in a special print-Braille format. Braille words appear directly under the printed words, providing visually-impaired children and their sighted parents a wonderful way to enjoy learning Braille. Print-Braille books are also very popular with blind adults (or older children) who enjoy reading to sighted preschoolers.
To order a copy of Hanni And Beth: Safe & Sound in print-Braille, visit www.seedlings.org.
Blue Marlin Publications donates a portion of the proceeds from sales of standard print-only versions of Hanni and Beth: Safe & Sound to Seedlings Braille Books for Children to help this non-profit, tax-exempt organization continue providing high quality, low cost Braille books for children.
For more information about Seedlings:
Seedlings Braille Books for Children
14151 Farmington Road
Livonia, MI 48154
Phone: 800/777-8552
Fax: 734/427-8552
info@seedlings.org
Both Long Time, No See and Hanni and Beth: Safe & Sound are also available from Bookshare free of charge in Audio and Braille to schools and all U.S. students with qualifying print disabilities: https://www.bookshare.org/search?keyword=Beth+Finke .