February 23, 2018

• 2 Comments • Posted in blindness, careers/jobs for people who are blind, memoir writing, teaching memoir, technology for people who are blind
February is Love Your Library month, and I'm celebrating in style: The Library of Congress Talking Book Service just released an audio version of my new book Writing Out Loud free of charge to Americans who are blind or visually impaired.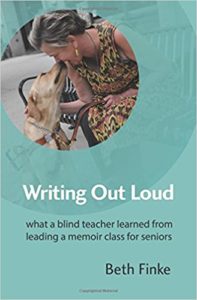 The Library of Congress administers the National Library Service (NLS) a talking-book and Braille program available for free to those of us whose low vision, blindness, or physical disability makes reading regular print difficult. When surgeons told me in 1986 that the eye surgeries hadn't worked and I'd never see again, one of my first concerns was how I would survive without being able to read books. NLS came to my rescue. Woman's Day Magazine published an essay I wrote a few years ago about the talking Book Program, and that essay is still available on the American library Association's "I Love Libraries" web site if you'd like to link there and learn more about how NLS works.
Back in the 20th Century NLS mailed cassette players and tapes free of charge. Now they offer free downloads. I am over the moon that so many more people will now have access to Writing Out Loud,and to that end, I'll end this post with the description and call letters necessary to order the book from the National Library Service. Happy listening!
Writing out loud: what a blind teacher learned from leading a memoir class for seniors DB89064
Finke, Beth. Reading time: 9 hours, 55 minutes.
Read by Celeste Lawson.

Disability

Journalist who chronicled her loss of sight from diabetic retinopathy in Long Time, No See (DB 56482) reflects on teaching a memoir-writing class to older adults in Chicago. Discusses living in a new city, describes challenges she faces as a teacher, and shares excerpts from her students' work. 2017.