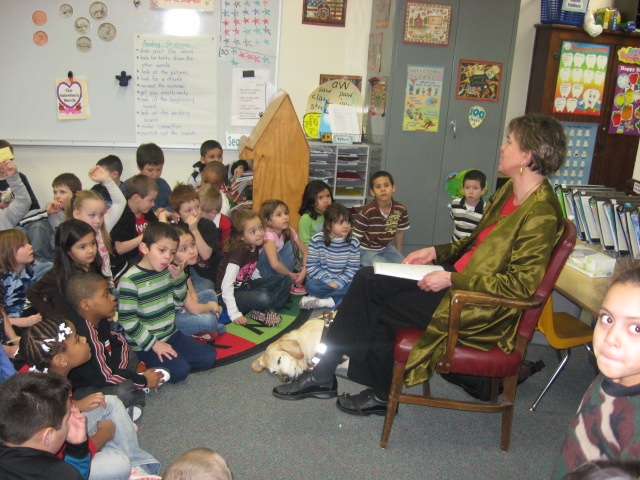 Hanni and I like to think of ourselves as divas, but I gotta admit – it's pretty unusual for us to ever appear on television. And it's very unusual for us to be on TV two days in a row. In fact, that's never happened before. Until last week, that is.
Last Wednesday morning Hanni and I appeared live and in color on WTMJ-TV, the NBC affiliate in Milwaukee. And then on Thursday we were on WLS-TV, the ABC affiliate in Chicago! The Chicago piece was about the volunteer work Hanni and I do with Sit Stay Read!. To see that piece online you need to link to the ABC7 Chicago web site, go to local news, scroll down to "disability issues" and its right there.
Our Milwaukee appearance is easier to find – we appeared on a show called Morning Blend, which, for some reason, I kept misspelling as Morning Blind. Much more appropriate in our case, both because of my lack of sight and the fact that the show started early. I hadn't had enough coffee yet and was still groping around a bit.
From all accounts, though, Hanni and I looked fine. My publisher at Blue Marlin Publications saw the interview and reported back to me in an email message:
It was extremely well done, both visually and interview-wise. At least three times during the interview, they flashed moving images of the cover and the internal pages we had sent them. The interviewers were extremely well dressed and well spoken also. And you are absolutely fantastic about answering questions on the spot without getting flustered.
I guess all the school visits Hanni and I have been doing lately have trained us well – Hanni was her calm loveable self on the set, and the questions I get from kids have taught me to be quick on my feet. If you missed our TV appearance in Milwaukee, the Morning Blend interview is available online.
The reason we were in Milwaukee and asked to do the Morning Blend TV interview in the first place was because Hanni and I had spent the day at Horace mann Elementary School in West Allis (a nearby suburb of Milwaukee) the day before. Our visit was billed as a reading incentive program, and we were able to return to the school in the evening to spend time with the kids and their parents, too. Families wrote books together after my evening presentation, and it was loads of fun to not only sign copies of Hanni and Beth: Safe & Sound for the kids, but also sign my name into the books they'd written themselves.
One of the kids who knew we were going to be on TV the next morning asked my very favorite question of the day: "What does it feel like to be a world famous author?" I could have explained that the TV Appearances were only local ones, Hanni and I don't really get stopped on the street for autographs, we wouldn't be boarding a private jet to fly back to Chicago after the interview. Instead, I summoned up the best Tony the Tiger imitation I could come up with and told him the truth: "It feels GRRRRRRRRReat!"