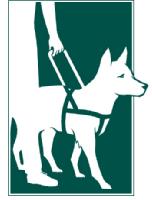 Earlier this year my publisher was asked to donate a copy of Hanni and Beth: Safe & Sound to the Seeing Eye's 80th Anniversary Online Auction. The idea was to include the book in a birthday party package. Well, Blue Marlin Publications didn't donate just one copy of Safe & Sound. They sent five. The Seeing Eye was thrilled with the extra books and came up with all sorts of clever ways to auction them off.
One book is being auctioned off all on its own, not part of a package. Hanni and Beth: Safe & Sound retails for $17.95. As of today, bids for the book at the Seeing Eye auction are up to $55. Blue Marlin's generosity must be contagious.
One of the other donated books is included in a birthday party package, just like the Seeing Eye had originally intended:
Children's birthday party at Seeing Eye downtown center.
Each child will spend time with a puppy to learn obedience exercises and enjoy fun play time. The party includes interactive games with the puppies and their raisers plus activities like "pin the tail on the Seeing Eye dog." The guest of honor will receive a custom-designed birthday cake from Morristown's Swiss Chalet Bakery, photos of the event taken by The Seeing Eye's official photographer and Manager of Instruction & Training John Keane, festive decorations, and a gift bag that includes a book by Seeing Eye grad Beth Finke called "Safe and Sound," a DVD of Disney's 1967 series about The Seeing Eye called "Atta Girl, Kelly!", a plush Seeing Eye puppy, puppy stickers, and other surprise gifts.
Two of the donated books are included with homemade blankets:
Specially Designed Seeing Eye 80th Anniversary quilt


This beautiful hand-pieced and hand-quilted anniversary lap quilt features star blocks in cranberry red, burnt orange, and forest green on a background of nine-patch blocks. Several of the fabrics used are in dog- and dog-related prints in colors of browns and tans. A section along the border reads: "The Seeing Eye – Leading the Way for 80 Years 1929 – 2009." As a special bonus, the winning bidder will also receive a copy of Seeing Eye graduate Beth Finke's award-winning children's book, Hanni and Beth: Safe and Sound.

Crocheted Afghan Plus Award-Winning Children's Book


Curl up under this cozy, hand-crocheted afghan made by the mother of a Seeing Eye graduate. The afghan measures 48″ x 48″ and was created in shades of midnight blue, azure blue and white diagonal stripes. As a special bonus, this package also includes a copy of the hardcover children's book by Seeing Eye graduate Beth Finke. "Hanni & Beth: Safe & Sound," is the winner of the ASPCA Henry Bergh Children's Book Award of 2008.
The piece de resistance, however, is that our book is included with a package that lets the winning bidder name a Seeing Eye dog after him-or-her self!
The Seeing Eye Breeding Station Tour for 2
This, of course, will include some play-time with puppies in the special playroom designed to introduce pups to the sounds, textures, and experiences
of the world they soon will encounter.

And be sure to decide which puppy most pulls at your heartstrings, because you will have the chance to name one of the puppies you meet on this special day. You and the pup will be photographed, and you'll receive a framed photo of the event.
Additional gifts with this item? An overnight stay at the Westin Governor Morris Hotel in Morristown, dinner at the hotel's Copeland Restaurant, a chocolate dog bone from Morristown's Enjou Chocolat, and a gift bag that includes, guess what? An award-winning children's book by Seeing Eye grad Beth Finke!
There's all sorts of other cool stuff being auctioned off, too: getaway vacationss, passes to see the Colbert Report, lunch with Betty White, baskets of gourmet chocolates, even a year's supply of Eukanuba dog food! Bidding Ends on Sunday, September 13 at 10:00 pm EDT – sign up now to jjoin the fun, donate to a GREAT cause and…bid up the price on our book!