I met Ryan Hartigan While I was training with Whitney. Ryan is the Online Media Specialist at the Seeing Eye, and he interviewed Whitney and me along with a few other guide dog teams for a one-minute video to promote the school.
Ryan and his wife Sarah volunteer as puppy raisers for the Seeing Eye, too, and right now they're raising Ike. Ryan sent me an email the other day to report on Ike's progress, and he agreed to let me share that note as a guest blog post.
A dog with good taste
by Ryan Hartigan
Apparently the shepherd puppy we're raising really wanted to remind us about you. This was just too funny and ironic, and I had to pass it along.
Ike, the 11-month-old shepherd we're raising, is not a destructive dog. Last Sunday, I got up and took Vinny, Watson and Ike out, fed them, made coffee and settled on the couch while the dogs took an extended nap with Sarah.
A while later, I heard Sarah saying, "What did you do?" Ike walks into the living room with a book in his mouth, neatly chewed round at each corner, all the way through, but still entirely readable. I told him to drop it, which he did, only to reveal the title: Long Time, No See. I was floored!
First of all, this wasn't a setup. I assure you. Ike has never messed with books, magazines or anything similar. My wife keeps a stack of books on her nightstand (probably eight or ten books) so at some point during their nap, Ike carefully selected your book to be customized by a Seeing Eye puppy! We still can't believe it!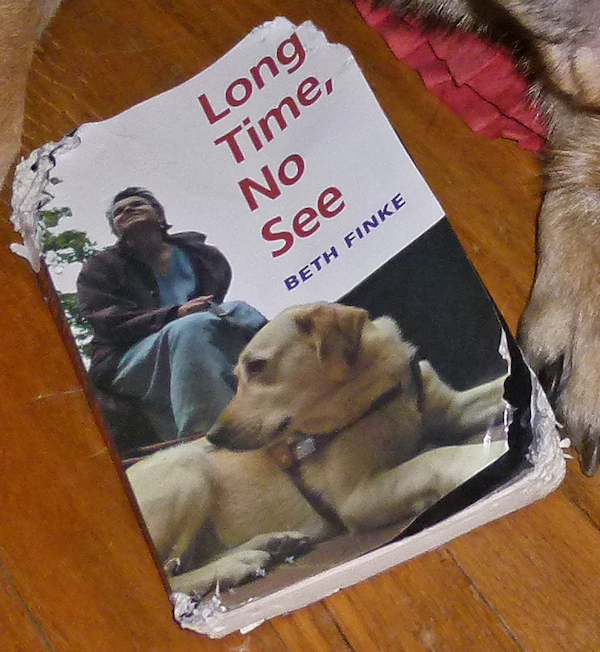 Hope Ike hasn't offended your writing too much. I like to think he chose your book because it is so good. I have saved the book. It's readable, and the way I look at it, Ike has made your story even more fantastic!