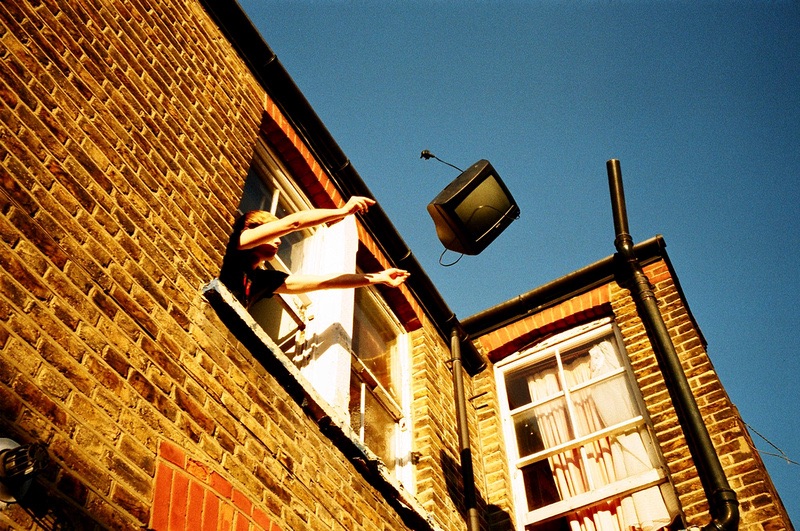 Sometimes I just want to talk to somebody. It could be an old  friend, an acquaintance, or maybe even someone I haven't met before. Taverns used to be the best place to pick up a conversation, but it's become nearly impossible to do so these days without the
omnipresent, glowing, flashing distraction of TVs. And not just one small TV at the end of the bar–now they're multiple behemoths, tuned to multiple events–usually sports but sometimes talking heads. Sometimes the sound is on, and when it's not, there's loud music playing.
I think it started in the 80s, with MTV, cable channels, and 24-hour sports channels. And it's crazy now.
Hackney's, our local watering hole (food's good, too), is usually relatively quiet, but the crowd there was boisterous after yesterday's Bears win. Our friend Brad, whom we've mentioned here before, came in and despaired at how difficult it is now to find a quiet place to have a drink before dinner.  When an out-of-town guest visited him last week, Brad brought him to the Coq d'Or, an old-school, wood-paneled cocktail bar in Chicago's vaunted Drake Hotel.
A good choice, I thought. Beth and I used to go to see the piano player there, Buddy Charles, who at the time was a local legend.
Well, apparently the Coq d'Or still has the clubby wood-paneled feel-but it also has TVs. Wide screen TVs. When Brad and his friend were there, all the TVs in the bar were tuned to some news story about a police raid in the Chicago area. One wide-screen was on the wall right next to Brad's head, he told us. "Everyone was staring my way, not at me, but at the TV!"
The three of us, as well as Sean, the Sunday night bartender at Hackney's, were hard pressed to come up with bars in Chicago that don't have TVs. Sean did come up with one: the California Clipper at the corner of California and Augusta. So we have a list of one, and I'm hoping there are more. I'm pretty sure that a list of such places in various major cities would become a valued part of any travel guide.
So, got any secret TV-less taverns to wet your whistle and/or grab a bite to eat at the bar? Whether it's in Chicago or elsewhere, please leave it in the comments section.
Because we all need a little respite from phosphorescent screens from time to time.