A couple of stories caught my eye this past week. One is from the Chicago Tribune on Illinois' system for funding schools. The way we fund schools in Illinois is nothing new, and it keeps not changing thanks to dysfunctional politics, but the short of it is that Illinois relies to an unusual degree on local property taxes to fund schools. One result is that affluent districts—the ones with enough money to also pay for test prep courses and other aids—are willing to pay out the nose for good schools. For those who think there's a crisis in public education, it isn't in these places.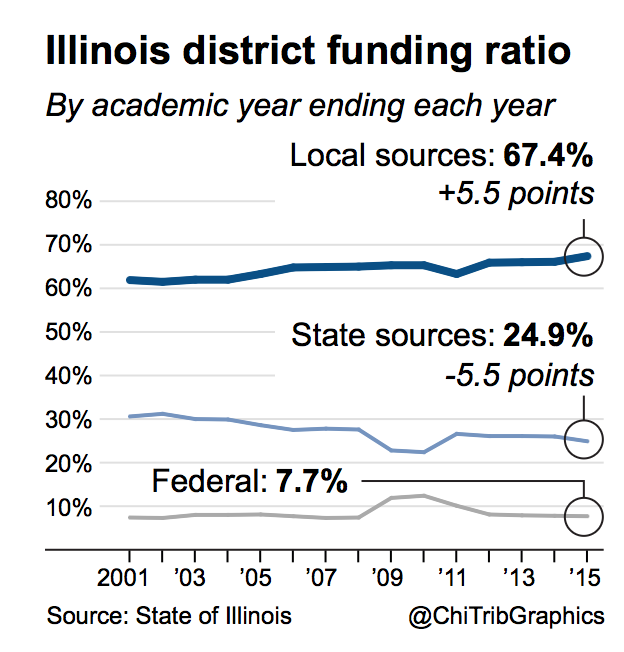 But its residents pay out the nose.
And it gives poor areas short shrift—even with Federal programs designed to attempt to balance the deficit poor localities face when it comes to education compared to rich areas. Anyway, it's a long piece, but if you're an Illinoisan, or you just care about education, it's worth the read.
The other story was about how selective enrollment schools haven't had the positive impact hoped for when it comes to kids from lower income areas who get in. In fact, the story explains how attending the likes of the vaunted Walter Payton High School actually hurts their chances of getting into elite colleges.
Education is always in the news. Charter schools are always a controversial topic, and they're going to be even more so in the near future. In my view, selective enrollment schools and charter schools are flip sides of the same coin. They represent an abandonment of the very principle of public education; they are gimmicks to subvert public education, and they run from root problems.
Here in Chicago, you may have heard we have a gun violence problem. In my view, we have a neighborhood poverty problem that has worsened in my lifetime. And, in my view, a big cause has been collective loss of interest in the notion of common interest, of shared interest—public interest—as manifested by our support for public education.
When I grew up (here comes the get off my lawn part), schools were a part of the fabric of our neighborhoods and of our community life. That they were healthy made a big difference.
What we have in Chicago, as best I can tell, is a system that siphons many of the best students—the kind that can help anchor a healthy school culture—out of their neighborhood schools.
I'm no Ph.D., but that would seem to make it harder to maintain a healthy school culture, and easier to hollow those schools out, write those schools off and eventually close them.
And the neighborhoods suffer for all that; it's a slow painful bleed. And I don't think anything's going to get better until we recognize our common interest in making sure kids on the South and West sides get a good education—in their own backyards.