September 21, 2007

• 7 Comments • Posted in book tour, Braille, Uncategorized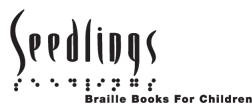 The Braille version of "Hanni and Beth: Safe & Sound" is here! I received my advance copy in the mail today! That means the "real deal" should be available to blind readers on October 15th, the same day the print edition will officially be released. This is very, very unusual.
Braille is so expensive to publish that "braile presses" usually wait until a book becomes a best-seller before putting it out in Braille. But here it is, already in my dirty little hands.
Okay, that's a joke. I washed my hands before touching the new book.
The book is in a Print-and-Braille format. The contracted braille and print match line for line, with the print just above the Braille (no pictures).
I can tell you first hand, so to speak, that it's "good Braille" = the dots are stiff, they stand up straight, They're easy to read.
A little known fact about Braille: less than 20% of the 50,000 blind children in the United States are proficient in Braille. All too often, the "written word" has been inaccessible to kids who are blind, far easier for them to listen to books on audio or hear words on a computer screen equipped with a screen reader. Technology is cool, but how will these children ever learn to spell correctly? How will they know where to put commas, quotation marks, paragraph breaks and so on?
My children's book publisher, Blue Marlin Publications, teamed up with Seedlings Braille Books for Children, a non-profit organization in Michigan that creates Braille books for kids who can't see. Blue Marlin didn't charge Seedlings a penny for the rights to publish the book in Braille.
Not only that, but Blue Marlin Publications is donating a portion of the sales of Hanni and Beth: Safe & Sound to Seedlings so they can continue creating books in Braille for kids who need them. By producing Braille books for children, Seedlings helps promote "literacy for the blind," providing visually impaired children equal opportunity to develop a love of reading.
With Safe & Sound available in Braille, I'll be able to read it aloud at my presentations, too.
To find out how to order a copy of Hanni and Beth: Safe & Sound in Braille, or to donate to Seedlings to help them create more books in Braille for kids, link to www.seedlings.org.